PDF to Word Conversion Service
PDF to Word Conversion Service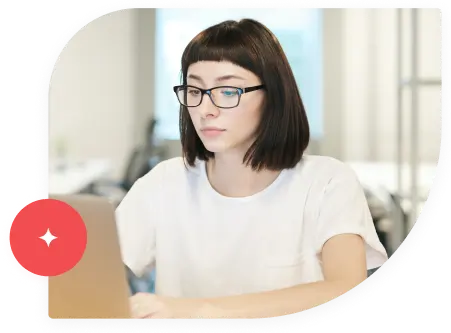 Looking to Convert PDF to Word Online? Check Our Service First
Due to the rapid expansion of digitalization and networking, it is now an everyday necessity to convert documents to an appropriate digital format. One such data conversion service that is most frequently requested is converting PDF files into Word. Typically, this can be done in two ways: either using OCR or manually.

OCR Conversion

OCR, or Optical Character Recognition, is a technique of converting images of handwritten, printed, or typed text, including PFDs, into machine-encoded text. OCR is frequently used for digitizing printed documents, converting books and papers into electronic format, extracting text from images, and making the text searchable. However, optical character recognition has a lot of disadvantages.

Disadvantages of OCR:

Poor quality. The quality of the input image greatly determines the PDF to Word conversion quality. If such an image contains flaws, OCR will have a tougher time retrieving text from it, resulting in poor-quality output text.
Inaccuracy. OCR technology does not always turn PDFs into text accurately. It can introduce mistakes that can mislead the document's value. These include mistaking a character for a word or a line break. A character recognition mistake occurs when an OCR engine wrongly identifies one character as another when converting text to text. For instance, it can interpret a lowercase "l" as a "1" or a "b" as an "8." If the text is utilized for important purposes, such as a legal document, this can cause problems.
Lost formatting. The formatting of the output document might occasionally be lost throughout the conversion process. As a result, the output text can be challenging to read or comprehend. Also, OCR is susceptible to changes in typefaces and formatting.
Erroneous results. Lack of information on some characters, such as punctuation, is another issue with optical character recognition. OCR software has difficulty reading many punctuation marks because they are too tiny, non-contiguous, or even upside-down and backward. The improper punctuation mark can also result in a punctuation mistake.
Issues with processing damaged text. When text is printed in a typeface different from the language's default font, OCR might not recognize it. Moreover, it might not be able to recognize background texts or texts located on a background with repetitive or dark patterns.
Other. OCR cannot recognize PDFs that are locked or protected in some way and can have issues converting lengthy texts and rare image formats to Word. Additionally, not all online conversion software is confidential, which may result in your PDF content being leaked or used without your permission.
Using OCR technology can provide a quick solution and slightly reduce manual work associated with document conversion PDF to Word, but it's far from being ideal. It cannot interpret data without human review, and you will most definitely need to double-check the Word document after OCR to ensure accuracy. And depending on the number and type of errors, this can result in lost time and massive proofreading costs.

All things considered, if you need to convert an important or complicated PDF to Word (e.g., orders, invoices, calculations, texts full of formulas, graphs, charts, tables, etc.), you should probably steer clear of OCR software and consider manual conversion.

Manual Conversion

Manual PDF to Word conversion is a process of step-by-step retyping of your PDF text to Word by a professional typist from typingservice.org. It's not as fast as OCR. However, it's 100% confidential, ensures high-quality output along with a perfect and consistent format, and is ideal for documents of any complexity and length.
How our PDF to Word service converts documents:

Data analysis. As soon as we receive your PDF, our Customer Care Manager analyzes it and assigns a subject-relevant typist to get the job done within the stipulated time.
Data conversion. The assigned typist uses their knowledge and experience to manually retype your document to Word from a blank page with a careful approach and great dedication. No software or tools are employed.
Quality check. As soon as your typist gets the job done, the Word document is passed on to the Quality Assurance Team, where it is double-checked to ensure you receive an accurate file with the original layout and formatting preserved.
Delivery of a converted file. After the check is over, we upload your converted Word file to a secure Customer Area and send you a quick link to download it. In the end, you will receive a completely editable file.
Free revisions. If you find any discrepancies in the file contents, you provide feedback, activate a revision in your Customer Area, and our manual PDF to Word conversion service improves your file for free.
Why choose our PDF to Word typing service?

Typingservice.org provides PDF-to-Word retyping services with utmost proficiency, speed, and quality. We have vast industry expertise in converting reports, books, brochures, handwritten notes, PDFs, and other documents and file formats to Word. Our typing company PDF to Word is not limited to the USA alone; we have already benefited many businesses and individuals across the globe, and our average feedback is 9.8/10.
Here's why clients entrust their most important projects to us:

All of the data conversion experts on our team have corresponding qualifications, considerable experience, and work under NDA.
We respect clients' deadlines, do our best to complete orders in a timely manner, and our fastest turnaround option is just 6 hours.

Our experts retype PDF to Word step by step, and we additionally check every converted file for quality to ensure maximum accuracy.

Our prices are fixed and vary from $4.67 per page in case of a 6-hour delivery to $1.94 per page if you choose a 30-day turnaround.
Stop Wasting Time on Routine Tasks!
Let trained professionals take over so you can focus on more important issues and even reclaim your weekends.
Order now